Kathmandu- On 18th of Chaitra 2079, 1974 AD is going to perform live at Belbari – 10 Bhaunne. The host for the performance are Malvika Subba and Mahesh Limbu. The program starts from 5pm onwards. The performance is titled as, " Yo Man Ta Mero Nepali Ho" and the ticket costs Rs.500 only. The venue of the performance is Prastabit Dangihaat Rangashala, Belbari.
1974 AD is a Nepali rock band that established in Kathmandu in the early 1990s.They dabble in a variety of musical styles, including Nepali folk, ragas, rock, funk, blues, and jazz. 1974 AD are one of Nepal's most successful recording artists. According to Nepal's Hits FM, the majority of their albums are in the top ten best-selling albums. Their event, 'Rock Yatra,' drew over 60,000 people in 2000, making it the largest concert ever held in Nepal.
The members of this band are : Phiroj Shyangden, Adrian Pradhan, Nirakar Yakthumba Limbu, Manoj Kumar KC,Sanjay Kumar Shrestha.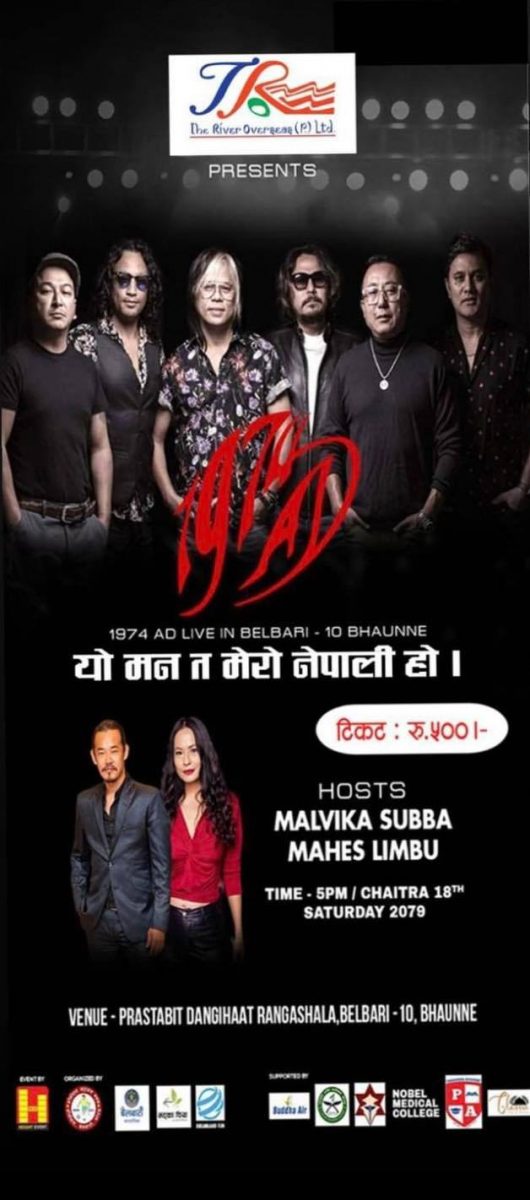 ---