Kathmandu- On 10th March 2023, Ashesh Dangol featuring Daniel Rasaily and Prabesh Kafle are going to perform at The Cottage Project. The venue of the live performance is 6730 FOSSIL BLUFF DR,FORT WORTH, TX 76137. The live music is going to start from 8pm onwards where Daniel Rasaily is on Drums and Prabesh Kafle on Bass. The announcement about the live event was made by Ashesh Dangol through his official Facebook stating, " After rocking the stages in California, Washington, Texas, North Carolina, Maryland and Georgia once again I am coming to Forth Worth, Texas this March 10 to Rock the show with Daniel and Prabesh at Knockout Sports Bar. Thank you Amar Chhetri Foundation & Revel Events Inc for putting up this show. Thank you Texas for all the love.
Ticket link:
https://www.eventbrite.com/e/the-cottage-project-the-himalayan-hendrix-ashesh-dangol-tickets-568320811847 ".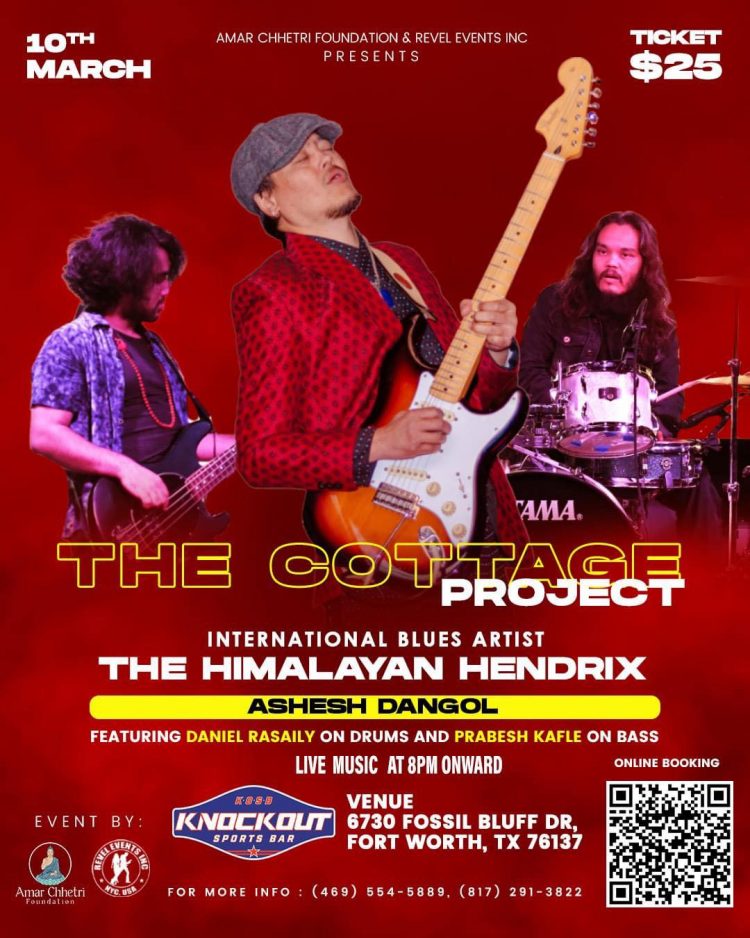 Ashesh, also known as "The Himalayan Hendrix," has already performed in more than 12 states and 11 foreign countries. He has also head-lined a number of music festivals, including Alamar Music Festival in Spain in 2007, Edinburg Mela in Scotland in 2011, Herzberg Festival in Germany in 2011, and Fauskivalen Music Festival in Hemsedal, Norway in 2010/2011 and 2016, among others. During his 2010 European tour, he was dubbed "The Himalayan Hendrix" by the Norwegian and German press. He received a prize from the Colorado Music Industry Organization in 2015 for his social efforts and musical contributions. Nominated in several categories for the Hits FM Music Award in 2010 and 2016. He has also served as a judge for other musical events, including the UK's Battle of the Bands in Nepal. Ashesh has also held a position as a music instructor at School of Rock in the USA. Have six music albums and are now touring the United States with "All Those Lovely Dreams" in 2022. Also, he is the lead singer of the venerable band "Nekhvam," which was founded in 1994.
---