Kathmandu- On 17th of February 2023, a bug event, Carnival De Kathmandu, is going to happen. The main attraction of the fest is the carnival performance by international dancers. A live music of Deepak Bajracharya and the Rythm Band along with Sabin Rai & The Pharaoh is going to take place. The entrance fee of the fest is Rs. 1500 and the performance is going to start from 5:00 pm onwards. The poster of the carnival seems to be very attractive, so let's all buy the tickets to witness Carnival De Kathmandu.
In the band Sabin Rai on vocals, Nikesh Katwal, John Shrestha, Jeevan Lama, and Binod Lama Tamang play guitars, bass, and drums as Sabin Rai and The Pharoah.
Few songs of Deepak Bajracharya are: Man Magan, Ritu, Wora Para, Jhumi Jhumi, Raati, Maya Ko Dori Le, Oh Amira, Maya ko dori le, Priya, Man Ka Magan, Timi Samu, Aankhama, Bhabiko Lekha, Adharyoma, Maitigharma, Prem Prastab, Mohini, Laila, Dubayo Dubayo, Maruni, Jani Jani, Harpal, Hawa, Samaya, Tmilai, Timi Samu, Timilai BHuleko Chaina, Hela, Priyeshi, Angalo, Jiudai Jiudai, Good Friday, Sunsaan, Nasoor, Ma Nai Ta Ho, Maya Deu, Nasur, Aankha Ko Nani, Yethartha, Dhuwa, Mohani, Naa Naa Naa, Jeevan Ko Bato Ma, Na Dukheko Man, Priye, The Corona Song, Khelauna.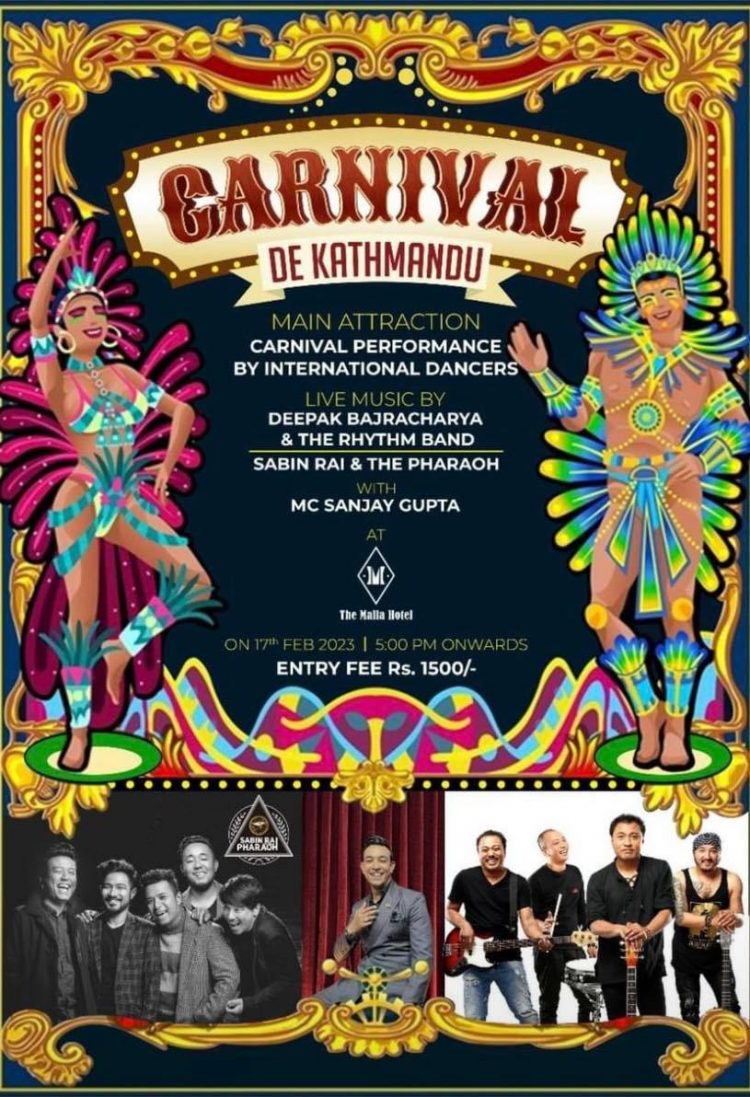 ---