Prive, the prominent event organizer, has announced the postponement of the highly anticipated Kailash Kher concert originally scheduled for September 15th.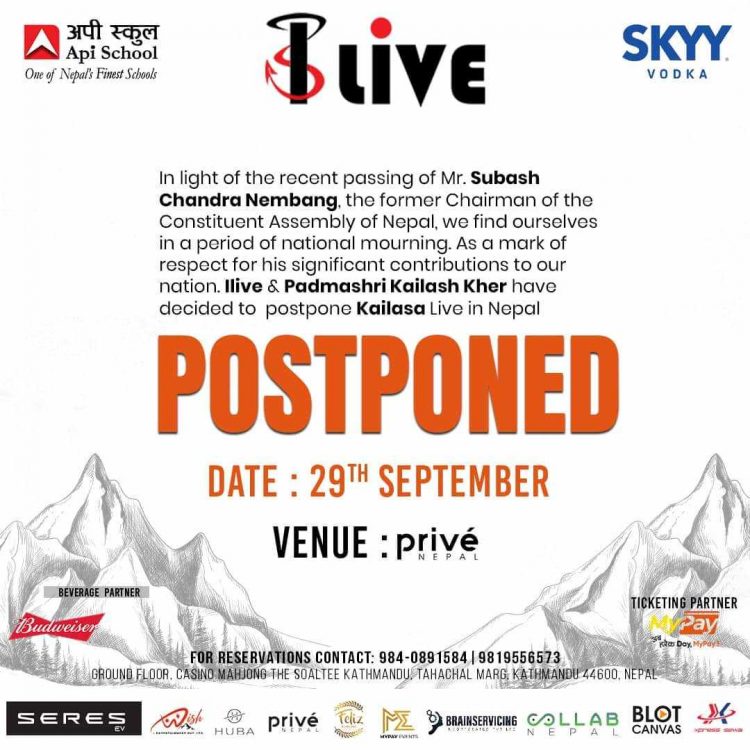 This decision comes in light of the untimely demise of the renowned Nepali politician , Subash Nemwang, who had a profound impact in Nepal.The event management team expressed their condolences and deep respect for Subash Nemwang's contributions to Nepali politics. In a statement, they stated that it was an extremely difficult decision to reschedule the show but considered it a mark of respect for the late politician's legacy.
The new date for the Kailash Kher concert is now set for September 29th. Prive assured ticket holders that their purchased tickets would be honored for the rescheduled event. This postponement serves as a reminder of impact of Subash Nemwang's work and the significance of his contributions to Nepal. Fans of  Kailash Kher eagerly await the rescheduled show as a tribute to the vibrant spirit of Nepal's political sector.
---