Get ready for an electrifying musical journey as the iconic Axe Band gears up to celebrate an incredible three decades in the music industry with a sensational tour across six different cities in Nepal.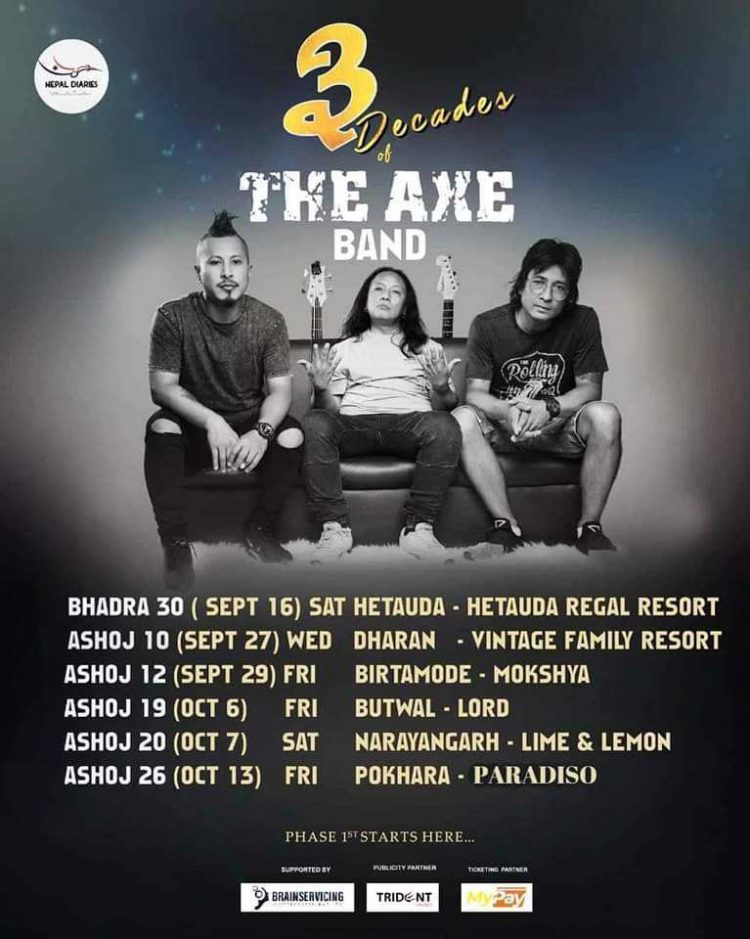 Fans of this legendary band are in for a treat as they hit the stage in various cities, promising an unforgettable experience.The tour kicks off on Bhadra 30th (September 16th) in Hetauda, setting the stage for a month of music and celebration. On Aswin 10 (September 27th), Dharan will groove to the rhythms of Axe Band, followed by Birtamode on Aswin 12 (September 29th). Butwal will join the celebration on Aswin 19 (October 7th), while Narayangarh gets its dose of musical brilliance on Aswin 20 (October 7th). The tour reaches its climax in the enchanting city of Pokhara on Aswin 26 (October 13th).
Axe Band, known for its chart-topping hits and remarkable performances, has been a prominent force in the Nepali music scene since its inception. With hits spanning generations, their music has been the soundtrack to countless lives.
This Nepal tour is not just a celebration of their music but also a tribute to the unwavering support of their fans over the years. Expect an explosion of energy, nostalgia, and music that transcends time as Axe Band takes the stage in each of these six cities, ensuring an unforgettable journey through their illustrious career. Don't miss out on the opportunity to witness history in the making as Axe Band rocks Nepal once again!
---