Axe Band Nepal Tour 2080: Celebrating 3 Decades of Musical Excellence, Soon to Hit the Stage!
Prepare to be swept off your feet as Axe Band, one of Nepal's most iconic musical groups, gears up to embark on their highly anticipated Nepal Tour 2080, marking an incredible three decades of melodious journey in the music industry. With a rich history of hits and a fan base that spans generations, Axe Band is all set to enthrall audiences across the nation.Formed in 2050, Axe Band quickly rose to fame with their unique fusion of rock, pop, and Nepali folk elements. Comprising of talented musicians who have been at the forefront of the country's music scene, the band has consistently delivered chart-topping tracks and unforgettable live performances.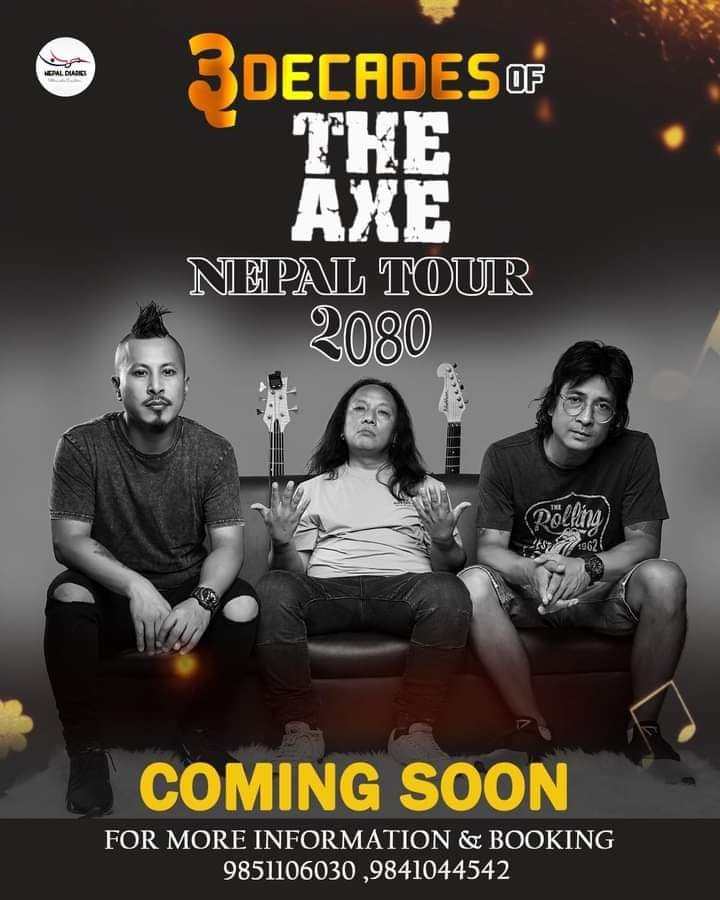 The upcoming Nepal Tour 2080 promises to be a musical extravaganza that commemorates not only the band's achievements but also the profound impact they have had on Nepal's cultural landscape. With current members Shiva Mukhiyaa on bass and vocals, Sajal Rajbhandari on guitars, and Surendra Shrestha on drums, The Axe Band-Nepali is one of the most well-known bands in Nepal. The group was founded in 1992.The group formed in 1993 after beginning as a garage band in 1992. They released their debut record, "Dhunwa," which did not perform well at the time. After Ramesh Gyawali left for his studies abroad in 1995, Siddharth entered the picture. Being a 3-man band at the time, however, was challenging because "Farkera Herda" gave off an old folk flavor and did not reflect the band's alternative style. The band's name was first publicized on the same album in the Nepali music industry when their songs "Chiya Barima" and "Pallo Dadama" were top hits. As a result, playing the same sound from their hit album proved difficult.In their hometown's destroyed room, the remaining lads practiced a lot, with Shiva taking charge of the fundamentals as well. Then, following a lengthy hiatus, they released their third album, "Majhi Dai" (2000). The CD showcased the three men's superb chemistry and had a taste of both hard rock and southern rock.Get ready to rock and roll, Nepal! The Axe Band Nepal Tour 2080 is about to take you on a musical ride that transcends decades and leaves a lasting imprint on hearts and souls.
---