The renowned Nepali band Nepathya is all set to embark on an inspiring "Music for Humanity" Japan tour, scheduled to captivate audiences in Tokyo on August 8th, Fukuyoka on August 12th, and Osaka on August 17th. The tour is set to be a celebration of music, unity, and compassion, as Nepathya uses their harmonious melodies to spread messages of hope and humanity.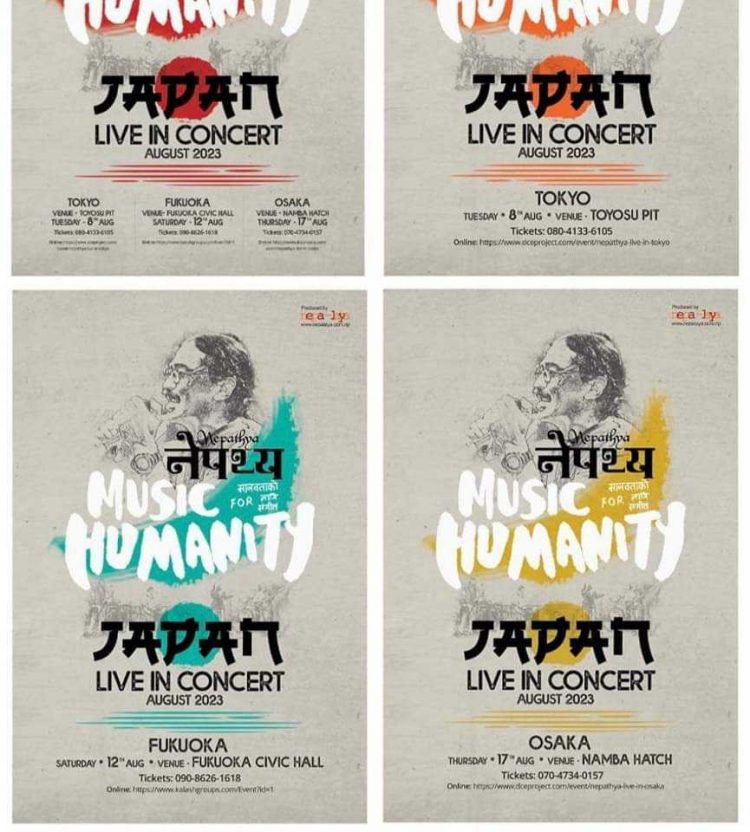 Nepathya, known for their unique fusion of folk and contemporary music, has been a powerhouse in the Nepali music industry for decades. With hits like "Sa Karnali" and "Chekyo Chekyo," their captivating performances have garnered them an ardent fan base, both in Nepal and internationally.The "Music for Humanity" Japan tour is an opportunity for the band to connect with their international fans while promoting messages of peace, love, and compassion through their music. The tour's theme aims to highlight the power of music in bringing people together and fostering a sense of global harmony.
The concerts in Tokyo, Fukuyoka, and Osaka are anticipated to be unforgettable, as fans eagerly await Nepathya's spellbinding performances. The band's charismatic frontman, Amrit Gurung, is known for his dynamic stage presence, which has the power to energize audiences and create an immersive concert experience.
As the date draws near, excitement is building, and fans are eagerly counting down the days until Nepathya's "Music for Humanity" Japan tour. This cultural exchange between Nepal and Japan is not only a celebration of music but also a testament to the power of art in transcending borders and bringing people together for a noble cause.As Nepathya prepares to take the stage in Tokyo, Fukuyoka, and Osaka, the "Music for Humanity" Japan tour is expected to leave a lasting impact on audiences, igniting a sense of togetherness and compassion through the universal language of music.
---