Tumbleweed performed live at Purple Haze's stage after years this May 20th, Saturday and released their new song,'Bichitra'.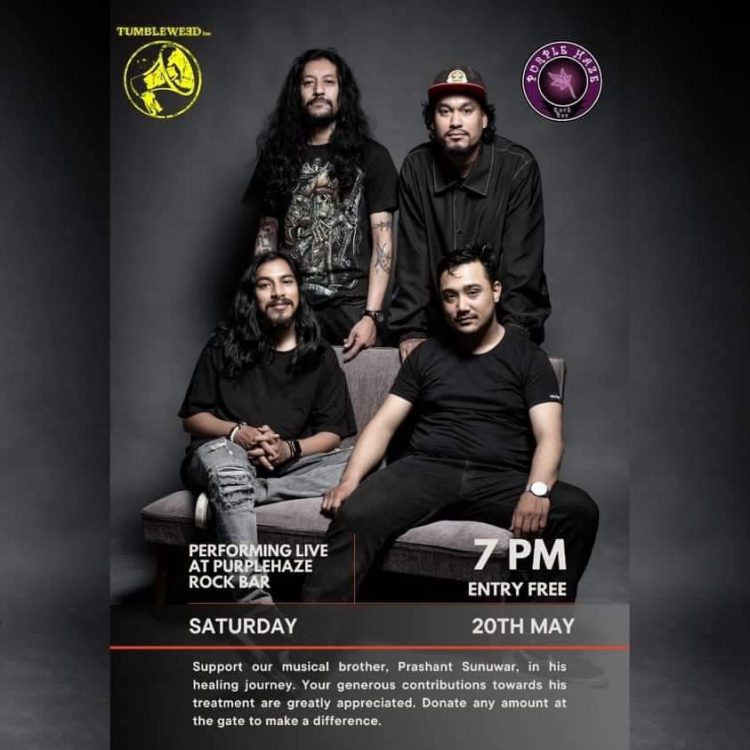 Sarad Shrestha writes on Facebook,"SEE YOU TONIGHT! at 7 pm Tumbleweed Inc is back at Haze's stage tonight after years, with the release of our new song 'Bichitra'. ENTRY FREE! Everyone is invited. The donation box would be available at the venue counter. Support our musical brother, Prashant Sunuwar, in his healing journey. Your generous contributions towards his treatment are great appreciated. Donate any amount at the gate to make a difference. Lets make it for a cause!To reach him contact at 9823248170 and for any kind of donation eSewa."
About Band
Tumbleweed Inc., Kathmandu based raprock/metal/funk band, the idea of Sarad Shrestha (former Axe band guitarist) one of the talented musicians dedicated to make music to satisfy the demands of rap metal/funk enthusiasts by churning out melodies with the aggression and the soul of modern music, came in existence from 2012 with the collaboration of artist from different bands. The sound of Tumbleweed Inc. is rap based funk/metal influenced from Rage Against the Machine, Snot, Primus, Deftones, RHCP etc. After the release of the debut album 'Parichaya' at 2014, the band had already gained a recognition as the established band both in the mainstream and underground music scene of Nepal. With all the major shows inside the country such as Nepal Music Festival, Silence Festival, they have been doing charity oriented events as well for fund raising shows for earthquake and flood victims. They have already headlined the Summer Rock Fest in UAE, and Sikkim Metal Fest in India, and Australia tour. The band has already come up with another second album 'Anyol' on Oct. 2017 with a successful Nepal tour on 10 different cities around.
---