Nepali singer Deepak Bajracharya and his band 'The Rhythm Band' is performing live at The Malla Hotel this New Year's Eve i.e. Chaitra 30th/April 13th, Thursday as the main performer of the show. The band will play along with lineup of Pariwartan band and Neha Goley.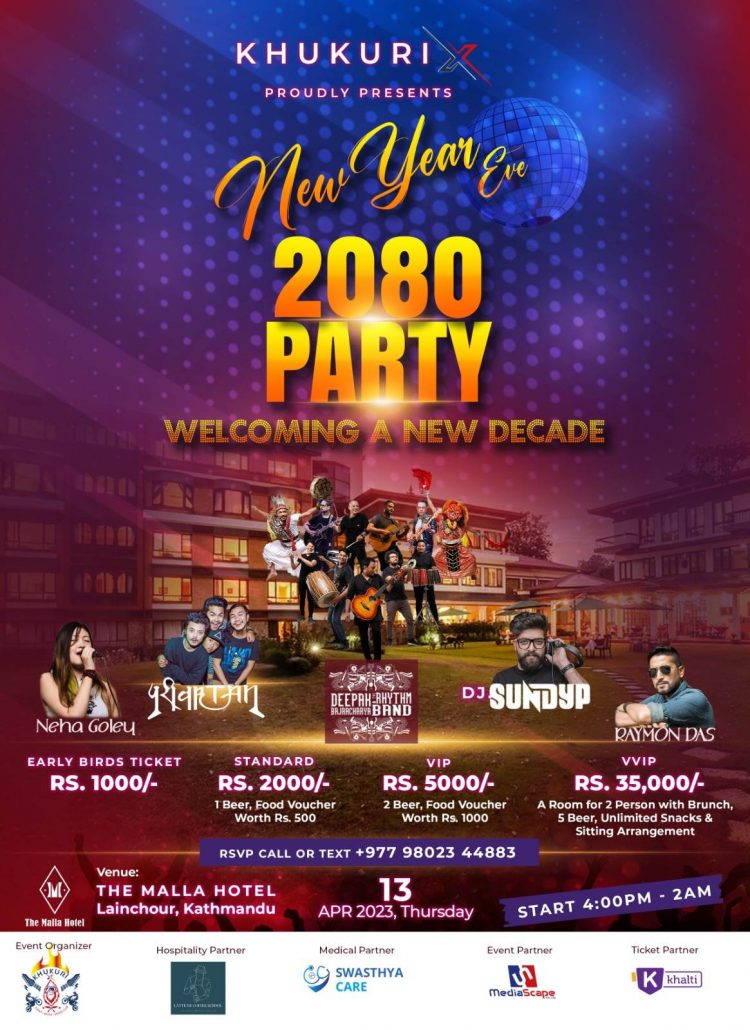 The band will perform alongside Pariwartan Band and opening singer Neha Goley. The event will highlight various fun activities like beer chug games, Lakhey and cultural dance by Rhythm Band, food stalls, cocktails and many more. The event is being organized by Khukuri X and media partner for the event is Mediascape.
About band 
During the past 20 years, Deepak Bajracharya has won the hearts of the Nepalese people with his unique brand of music. His long career in music and his efforts to create a special fusion of ethnic Nepali and contemporary music have produced masterpieces that future generations will appreciate. To say he is just magical and that his music provides so much joy would be an understatement. Through his songs, music videos, and live performances, he has made a significant contribution to Nepalese culture by incorporating and experimenting with ethnic musical instruments. He intentionally incorporates ethnic musical instruments into his work to raise awareness of the value of these instruments, which are all but lost today. Truly a wonderful idea from a true musical talent.
The Rhythm Band was founded in 2003 with the intention of offering Nepali pop music a fresh perspective. The band's members' talent and tenacity have allowed them to carve out a special niche for themselves in Nepal's musical landscape. Their expertise is experimental music with Hispanic influences that can be combined with Nepali phrases. When they play, the acoustic effect of the guitars with the synthesising and the drumming is a feast for the ears. One of the most enduring songs in Nepali pop music was written by The Rhythm Band and Deepak Bajracharya.
---