Rapper VTEN and singer Chhewang Lama are performing in Dubai at 28 Jan, coming Saturday at Yak and Yeti, Everest Club.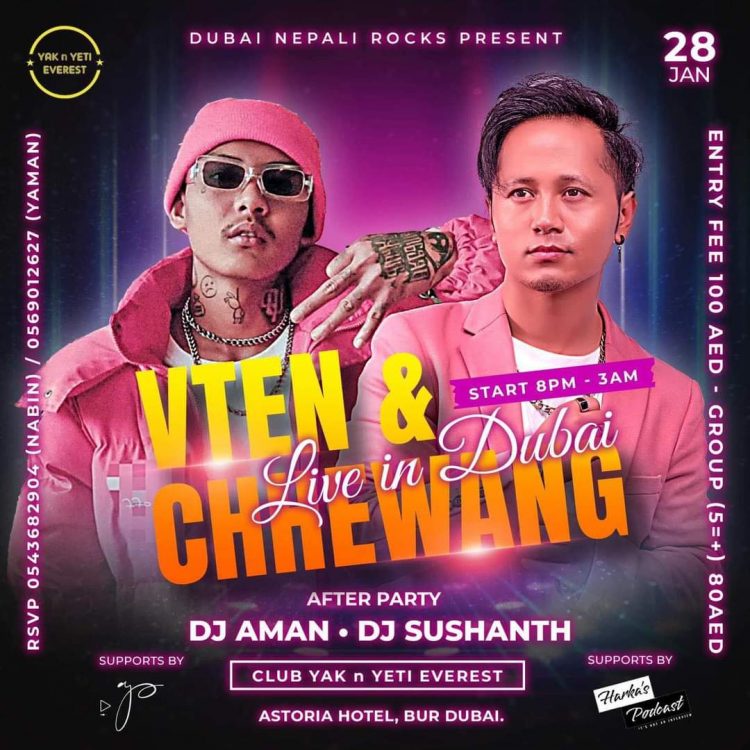 Chhewang Lama is a Nepalese model, music producer, songwriter, and vocalist. He is the YouTube musician who rose to prominence by performing cover songs. Chhewang is one of many great Nepalese musicians who perform song covers in English, Hindi, and Nepali.He has a massive amount of social media followers and well-wishers. Despite his reputation as a cover singer, he has recently focused on creating his own music rather than singing cover songs. His song Lahure, which was released in 2019, has gained more fans as it has become popular in Tiktok among Nepali Tiktok users.
Samir Ghising, better known by his stage name VTEN, is a Nepalese rapper & actor from Kathmandu. He started gaining popularity after release of his song Churot in 2016.
---