The Axe Band Nepali is celebrating Dashain and their 30th anniversary with live performance in Melbourne this 10th October at Billboard the venue 170 Russel.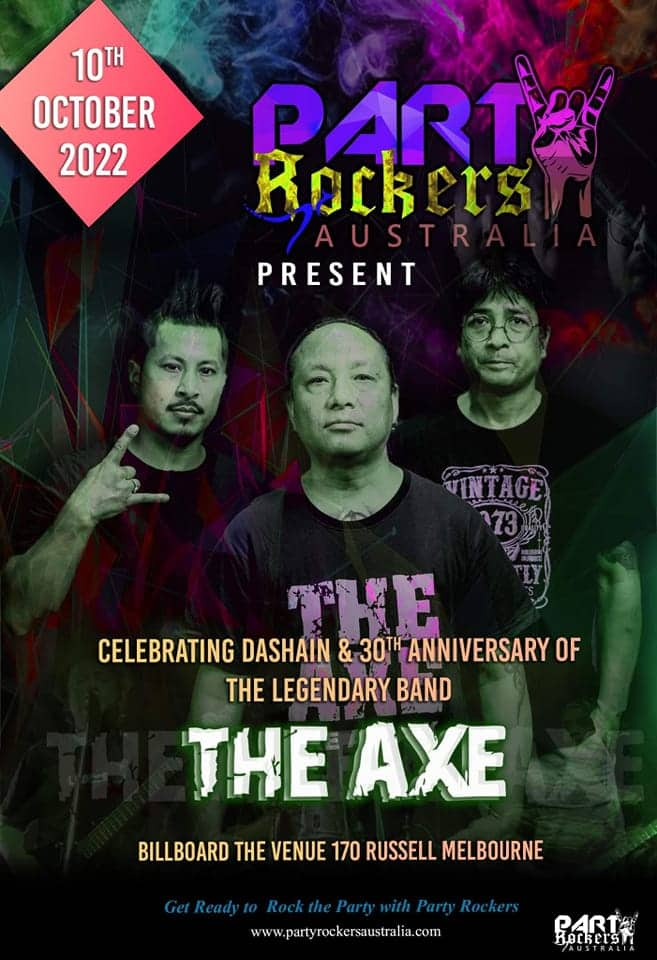 Formed in the year 2000, Mantra was initially a three men band with Praggya on lead guitars, Bishal on drums and Pravash on bass. After playing instrumentals at gigs for few months, they realized that they needed a vocalists and that is when Vaskar Dewan joined them. Later, Manish Thapa joined in as a keyboardist followed by Bidhan on the flute. Hence, the Mantra completed and the band released their first single 'Timi Bina' which was included on the collection album "Gorkha Rocks'. The popularity of the song encouraged them to work on their own album. The name Mantra was chosen for the band because they wanted something different than the conventional way of using English names for the bands and also for the good luck, as the term Mantra has holy connotation. Inspired by the Nepali rock bands like Robin and The New Revolution, Mukti and Revival, 1974 AD, this Darjeeling based band believes that the Nepali rock music is getting better than before. The band released their first self titled album Mantra in the year 2003. Their second album Rock Yatra was released in the year 2005, followed by Himali Nepali in the year 2006. Watch the video of Mantra band performing, 'Himali Nepali' and their other songs at It's My Show, season 4;
The band, already popular in Darjeeling and some parts of Nepal, got instant recognition for their song Bir Gorkhali which was sung by Prashant Tamang, winner of the Indian Idol Season 3. The song became famous as his but was later known to belong to the Mantra and the band also got recognition all over Nepal. Pragya, Manish and Prabhat are full time musicians and are involved in various music related works like recording, arranging, etc. whereas the drummer Bishal is in the Indian Army and the flutist Bidhan is associated with the Darjeeling Police. There are fewer young generation Nepalese who does not recognize this band and it is one of the most popular Nepali rock band. Their songs have always been a hit and they were also invited for stage performances in Kathmandu and other places of Nepal. So far the band has performed at various places. They have won many awards like 'Rock O' Phonix' Alcheringa at the IITG cultural festival held in Guwahati, Assam and Gangtok Rock Contest, where Praggya took home the award of Best Lead Guitarist. Mantra also went to perform at the highly prestigious Great Indian Rock held in New Delhi at 2006. They were selected as the best twelve band from all over India. Their tracks 'Sanskriti' and 'Himali Nepali' are their songs that were nominated in the Annual Hits FM Awards for the Best Rock Composition.
---