Popular Nepali singer/lyricist Nima Rumba is coming back with a new song 'Timi bhetne Pratikshya Ma' featuring Nepali singer Subani Moktan.
He made announcement of the song through his social media handle writing a caption, "नमस्ते
। Hello ! Nepali Music Lovers
Nima Rumba & Subani Moktan Fans
Our Well-Wishers, Supporters & Friends, this 'NewSingle' Marker Pen ( तिमी भेट्ने प्रतिक्षामा ) releasing soon on all digital platforms . We hope and wish for your LOVE & Support
. Special Thanks to Song Writer Mr. Ramesh Dahal, Music Arranger/Mixing&Mastering Mr. Sujil Karmacharya, Recordist Shailesh Shrestha (The Range Studio). And ofcourse ! Beautiful Subani Moktan for this colaboration & Anil Sthapit Dai for this Nice Cover design . Thank You all
#NimaRumba #subanimoktan #nepalimusic #nimarumbasongs #nepalisong".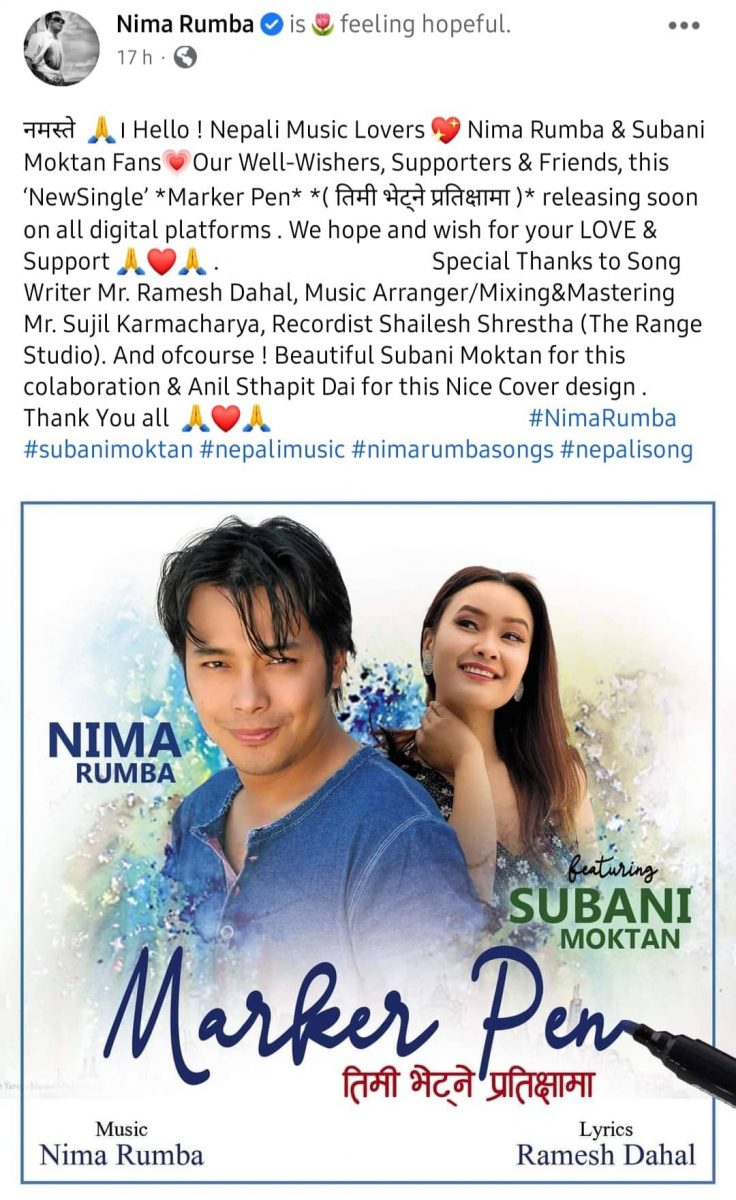 The lyrics of the song is written by Ramesh Dahal and the music and vocals to the song is given by Nima Rumba. The release date of the song is not announced yet. Nima Rumba is a well-known name in Nepal's music scene. He is a multi-talented musician who excels at singing, writing lyrics, and acting. Musical legends such as Michael Jackson and George Michael have influenced him greatly.A collection of Nima Rumba's best and highly popular hit songs was released in the year 2002. Lalita, Aau aauna, Preeti Basyo, Block Hill Shoes, and Meri Pyasi are some of his hit numbers. Let's listen to Lalita here;
At the Hits FM Music Awards, he won the best album of the year award for his third album, Huri Batas. Lolita, his fourth album, also won the FM award for Best Vocal Performance for the song Aau aauna. Nima has also dabbled in Nepali cinema. He portrayed Lord Krishna in the Nepali film Kagbeni, which was released in 2008. The film was a box office success, and his performance in it received critical acclaim.
---