Teej is near the door of Nepalese women and many Teej songs are releasing at this time. Likewise, a teej song, 'Pauma Pauju' from upcoming Nepali movie Radha is getting a quite lot of admiration from Nepali music lovers as 'New Teej Anthem'.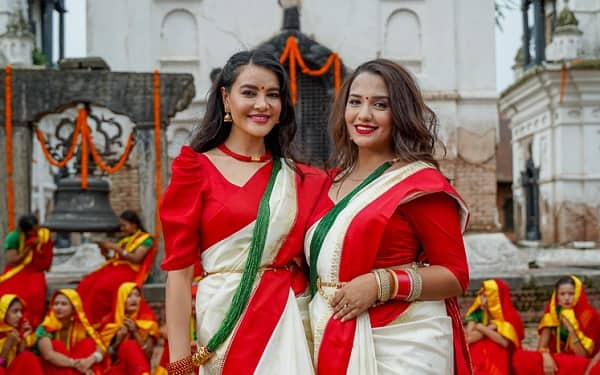 The music composer of the song is given by Nepali singer and songwriter Kali Prasad Baskota and he hasn't disappointed with his work like eveytime, to sump up its just truly amazing. The vocalists of the song are Sajja Chaulagain and Swostika Dahal. The lyrics of the song is written by Srijana Khatri, the word selection for the song are excellent and fit well as a Teej song.
The official music video of the song features Nepali actresses Priyanka Karki and Shristi Shrestha dancing on red attire. Priyanka has made a wonderful comeback after her pregnancy and absolutely slayed with her grace and amazing dance moves. Kudos to Priyanka for that!!! This song has totally succeeded  to represent our traditions and culture and reflects love, care and admiration of a women towards her husband and gives metaphorical meaning to the hardships as a women. After Gauri Malla's historic teej Song(swarga), Do you think   'Pauma Pauju' is another Teej song from Nepali film industry for next decade??
You can watch the official music video here;
---