Kathmandu- On the occasion of New Year's Eve Abhaya and the Steam Engines will be performing at Hard Rock Cafe, Durbarmarg. Singer Abhaya Subba Weise had shared the information about the live perfomance throughher official facebook page stating , " Let's rock into 2023″. The live music will start from 7;30 onwards.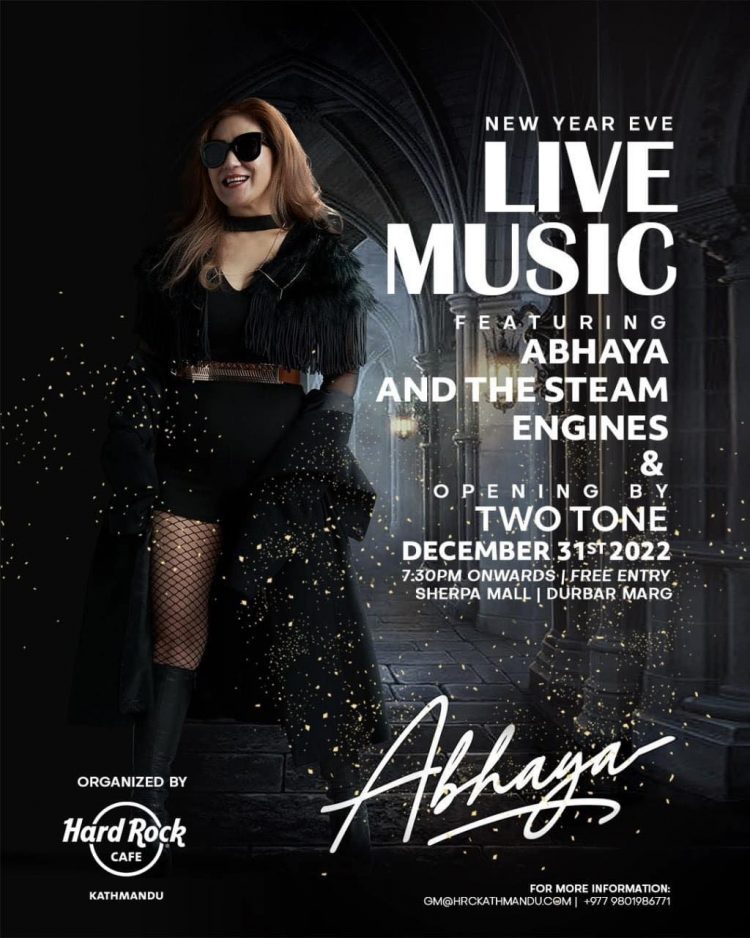 Abhaya and the Steam Engines is a band led by a female Singer Abhaya Subba Weise with three other members Nikesh Karki, Rajiv Rinchen and Nabin Thapa Magar.The band  first started on 2005. The band members are Nikesh Karki on keyboard, Rajiv Rinchen on Guitar and Nabin Thapa Magar on drums.
Few song of the band are: Timro Laagi, Looking For Love, Siri Ma Siri, Naini Taal, Hawa Huree and their latest hit laijau malai. Laijau malai was released on 12th of January, starring Asmi Shrestha. The music of this album is given by Abhaya and the steam engines with DJ Bidhan & Zanrix Ft. Dilli Phombo. This song is composed by Abhaya Subba. This song has created a huge fanbase in the music industry especially in tiktoks.The Band is performing at different events inside and outside the valley. Whereas, the band has had a musical tour to different countries like The United States Of America, Australia, Dubai and India.
---