Kathmandu-  Sweet Child O' Mine, one of the most popular songs from Guns N' Roses, was actually written in 5 minutes! Here's the story, Slash and Izzy were having a jam session and fooling around with their instruments, when Slash decided to make a Circus-Themed riff. They started joking around when Rose heard the riff and came downstairs and the conversation went something like this…
The lyrics came from a poem Axl Rose was working on. He wrote the song about his girlfriend, Erin Everly, the daughter of Don Everly of the Everly Brothers. After dating for four years, they got married at a quickie wedding in Las Vegas on April 28, 1990, but just nine months later, the marriage was annulled, with Everly claiming abuse.
Slash came up with the riff when he was playing around on his guitar. He thought it was silly and wanted nothing to do with it, but Axl loved it and had him keep playing it. Izzy Stradlin added some chords, and the song came together. According to Duff McKagan's 2012 autobiography, Slash always considered it the worst Guns N' Roses song.
Axl listened to a bunch of Lynyrd Skynyrd songs before recording his vocal. He liked their down-home, genuine sound and wanted to duplicate it on this track.Axl Rose had a rough childhood, but in this song he recalls one pocket of light, remembering childhood memories "where everything was as fresh as the bright blue sky."
He told the Los Angeles Times: "The 'blue sky' line actually was one of my first childhood memories – looking at the blue sky and wishing I could disappear in it because it was so beautiful.
Slash has stated multiple times that he is not particularly fond of this song, despite it being the band's biggest hit single. In an interview he explained why he wasn't too keen on it: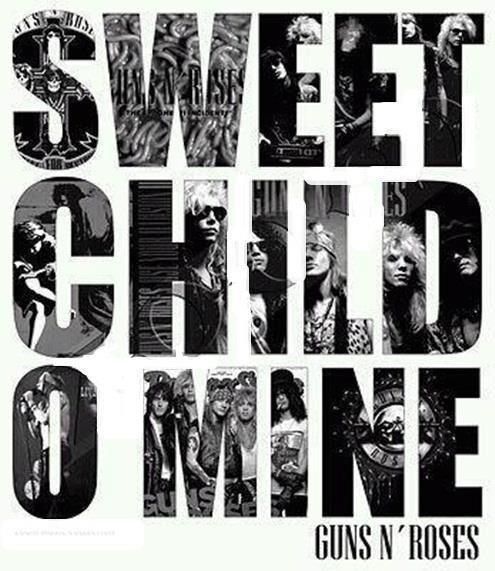 I didn't hate it, but I wasn't fond of "Sweet Child O' Mine." And that gives you a good idea of how credible my opinion is… The actual riff itself I love, but the song itself… But at the same time, it's a great song—I'm not knocking it—but at the same time, it just did not fit in with the rest of our, sort of, schtick
The two largest contributors to the writing of this song are guitarist Slash and vocalist Axl Rose. Rose wrote most of the lyrics and vocal melodies and Slash wrote most of the instrumental.
---